As calm and peaceful as nature may seem on a hike, it is always unpredictable, and conditions can change quickly due to weather or accidents on the trail. The good news is that the best way to prepare for an emergency, a hiking first aid kit, is full of cheap and accessible items that will increase in value ten-fold if you ever need them.
The perfect hiking first aid kit depends on your needs and experience with wounds and injuries, so we've listed a few essential items to begin your kit with below. Gather these items and build your kit from there, and don't forget to stop by ASO Mammoth before your next hike for all your outdoors gear needs!
Antiseptic Wipes and Antibacterial Ointment
Although anything is possible when on the trail, the most common injuries you'll see are scrapes and cuts. Most can be treated with an antiseptic wipe and then dressed to prevent any further contamination, but large wounds can be cleaned with antibacterial ointment.
Sterile Dressing Pads and Dressings
Once you have a wound cleaned out, the next step is to cover it with a sterile dressing. You may need an adhesive dressing pad to cover a wound until it can be cared for or a non-adhesive pad to stop bleeding. The best hiking first aid kit will have a combination of the two so that any type of injury can be treated.
Adhesive Bandages, Butterfly Closures, Gauze Roll, and Adhesive Tape
A bandage on a wound can be kept clean and in place with an adhesive strip. If you have a cut on your finger then treating it is as simple as applying a small adhesive strip, but larger wounds may require a butterfly closure, gauze held in placed with safety pins, or even adhesive tape. You should at least have small bandages for cuts and scrapes and a roll of gauze that can be fastened into place in case the injured person needs to move.
A Multi-tool, Scissors, and Tweezers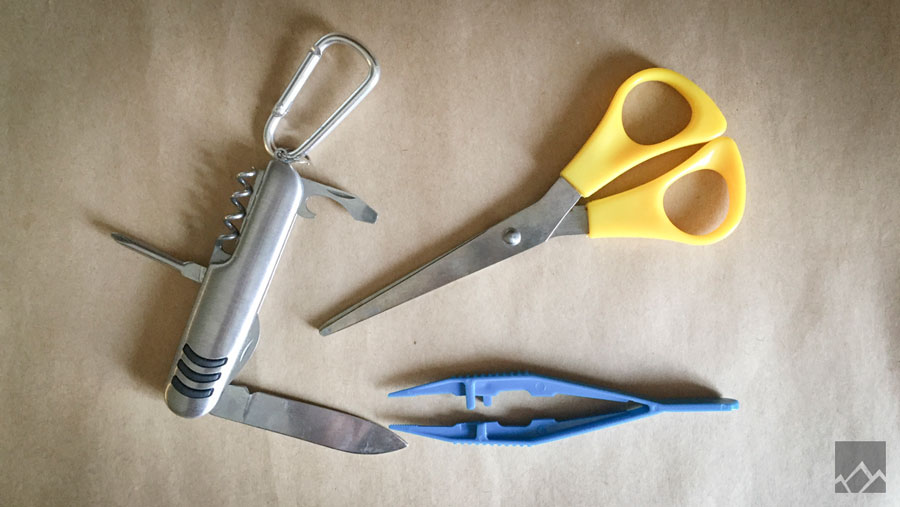 A multi-tool has endless uses in the outdoors, and a good knife will cut bandages and pads, but the best way to safely access wounds through clothes is by using trauma scissors with a blunt end that will help you avoid cutting the injured person. Lastly, tweezers are a small but valuable tool for removing splinters, insects and debris from wounds. You may think tweezers are perfect for removing stingers as well, but you actually should not use them to remove insect stingers. Click here for more information on how to remove insect stingers..
Basic Pain Relievers
The best way to treat a wound or injury is by getting the injured person out of the wilderness and to a doctor and proper medical facilities. To do so, you may need basic pain relievers such as ibuprofen or aspirin to temporarily dull aches and pains.
First Aid Instructional Cards
Accidents don't care if you're trained to treat wounded people or not, so if you're unfamiliar with basic first aid then you should carry instructions for how to perform it.
Whether it's information on how to properly use the gear in your kit or a guide on how to perform CPR, make sure you have all the information and know-how to treat the people you're hiking with.
Personal Medication
If you or someone you're with is prone to allergic reactions or relies on a certain medication, then make sure you have exactly what they need to be healthy while on the trail. If you're packing prescription medication, then make sure is clearly labeled with proper dosage amounts in case of emergencies.
What do you include in your camping and hiking first aid kit?