The Best Tips for a Day Trip from Mammoth Lakes to Yosemite
We love all national parks, but Yosemite is one of the most spectacular in the entire world.
Thanks to the soaring cliffs, stellar views, and unbelievable hiking, Yosemite National Park is a must-see area for anyone who loves nature. Not only that, but it's one of the most famous national parks in America since it was one of the first pieces of American public land that was designated for preservation which eventually led to our national park system.
Knowing all that, it's understandable if you plan on visiting Yosemite National Park while staying in Mammoth Lakes. That's why the ASO Mammoth team has put together a quick guide to visiting Yosemite from Mammoth Lakes.
Check it out below and then visit ASO Mammoth for all the hiking and outdoor gear you need in Mammoth Lakes!
Make Sure Tioga Pass is Open Before Making Plans
Yosemite National Park may be close to Mammoth Lakes geographically, but the time of year makes a huge difference on how close it actually is.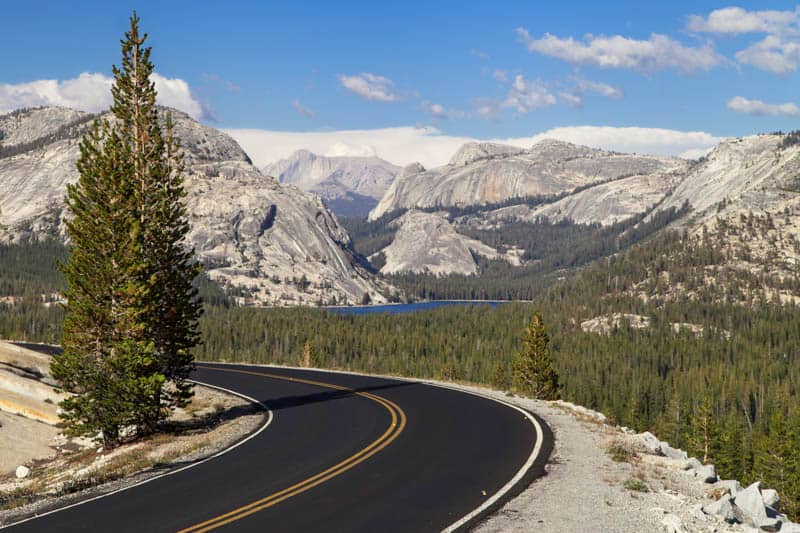 The best way to get to Yosemite National Park from Mammoth Lakes is by driving north and then crossing through the mountains to the park via Tioga Pass. However, after snow falls the pass closes for the winter, which takes the drive from Mammoth Lakes to Yosemite from 45 minutes to nearly 6 hours.
Given how much there is to do in Yosemite, driving 6 hours there and back leaves you with few options for seeing the park itself. For that reason, it's important to know if Tioga Pass will be open while you're in Mammoth Lakes.
Check to See if Reservations are Required in the Park Before Your Visit
Yosemite is one of the most popular national parks in the world, and with all those people visiting there's a chance that popular areas may require a permit for visitors.
For example, right now reservations are required to drive through the park between May 20th through September 20th to make room for infrastructure improvements. Other areas, such as Half Dome, may require special gear or knowledge to access them. While that may seem like a ton to handle, Yosemite's website makes it easy to track reservations and everything else you need to know before you visit!
Watch Out for Altitude Sickness
Even if you're just driving through Yosemite and not hiking, it's important that you bring water with you and drink it throughout your visit. Although altitude sickness typically only occurs in Yosemite if you're hiking or climbing high peaks, it can still sneak up on you if you're walking or biking around the Yosemite Valley. Altitude sickness happens because our bodies must work harder at higher altitudes, which means we need more water to keep functioning. 
Drink plenty of water during your visit to Yosemite and keep extra with you in case you come across anyone else who may need it!
Make Sure You Have Plenty of Gas Before Driving
Lastly, the 45-minute drive from Mammoth Lakes to Yosemite may not seem like much in terms of gas mileage. However, the Tioga Pass entrance to Yosemite National Park is far from the Yosemite Valley and several other popular attractions, so make sure you have enough gas to get to the park and then through it! 
There are gas stations within the park, but the fastest way to get back to Mammoth Lakes is to not stop for gas in Yosemite! 🙂 
Yosemite National Park At-A-Glance
Here's a Quick List to help you plan your Yosemite Day Trip (courtesy of Julia Jennings from A Well Planned Journey):
When to Visit Yosemite: Mid-Spring to Mid-Fall Late Fall is the best time to go to Yosemite. In the Spring, waterfalls are abundant. In the Fall, you'll find plenty of Fall colors. The Summer months are the busiest time of year – be sure to book your trip in advance!
Where to Stay in Yosemite: If you're looking to stay in the park, I recommend choosing between The Ahwahnee or Yosemite Valley Lodge. Outside the park, book a spot at the nearby Rush Creek Lodge or the Tenaya Lodge at Yosemite.
How to Get To Yosemite from Mammoth: The closest airport is in Fresno, California, about 2 hours away. You can also fly into San Francisco or Oakland, both 4 hours away. Use Skyscanner to browse flights and find the best price.
How to Get Around Yosemite National Park: The easiest way to get around Yosemite is in your own car. Use Rentalcars.com to browse deals on rental cars or rent an RV or campervan with Outdoorsy.
Best Self-Guided Tour in Yosemite National Park: My favorite way to learn more about the park is with GyPSy Guides, a narrated self-guided tour perfect for road trips and scenic drives. The Yosemite Guide provides incredible commentary and detail about the history and geology of Yosemite.
Best Tip Of All: Get an America the Beautiful National Park Pass ahead of any trip to National Parks to save time and money! Only $80, valid for 12 months, and gives you access to 400+ national parks (including Yosemite)