If there's one thing you can predict when it comes to COVID-19, it's unpredictability.
We've come a long way from when the virus shut down ski mountains all over the world and spelled an early end for the 2019/20 winter season. However, ski mountains and the rest of the world are still figuring out the best way to stop the spread of COVID-19 while getting back to normal life. One of the unpredictable results of COVID-19 was whether or not the capacity limits put in place at Mammoth Mountain to allow for social distancing would cause long lift lines.
The season is far from over, but the ASO Mammoth team has done our best to answer the question below. Check it out ahead of your visit to Mammoth Mountain!
The Capacity Limit Hasn't Caused or Prevented Long Lift Lines at Mammoth Mountain
Mammoth Mountain's capacity limit keeps the mountain from becoming so crowded that social distancing on lifts and inside facilities is impractical. However, that doesn't mean that the mountain never has a lift line because it's never at its original capacity.
Mammoth's capacity limit can't control which lifts people gather at, so unless everyone spreads out over the mountain then there is always a chance for long lift lines. Like most winters, lift lines build up on holidays, weekends, and especially on holiday weekends or weekends after heavy snowfall. Fortunately, that means you can also regularly avoid long lift lines by visiting Mammoth Mountain during the week instead of the weekend just as you would during any other season.
You Can Easily Avoid Long Lift Lines Based on Where You Ride
Like any other winter, the longest lift lines are at the base of the mountain where riders who want to go higher up mix with beginners who are riding the green slopes near the base. Once you get beyond the lifts at the base though, you can stay higher up on the mountain near the more advanced runs and easily avoid the longest lift lines. This strategy may not be as effective on heavy snow days when everyone is searching for powder, but Mammoth Mountain is called Mammoth for a reason.
There is plenty of terrain and lifts to find your slice of heaven and ride it all day long. Stay flexible if you run into a long lift line and remember that there is plenty of snow for everyone. Check out some trail maps before your next visit to be prepared.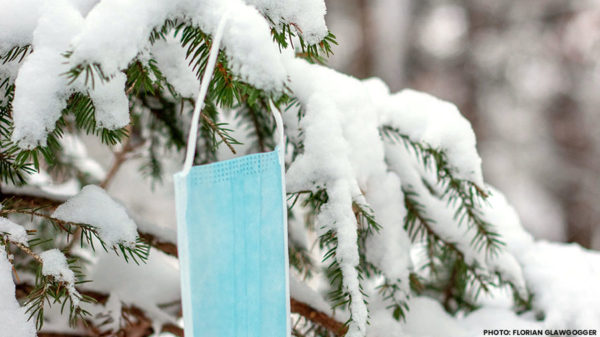 Lines Can Form Off the Mountain too
Just as the capacity limit won't prevent long lift lines on the mountain, it won't prevent them around it either. Don't forget that a crowded day on the mountain means a crowded parking lot and public transit system. The Eastern Sierra Transit Authority is running most of its vehicles on the same schedules and routes as always, but they are requiring social distancing and for all riders to wear masks. The parking lots around Mammoth Mountain could also be just as crowded on high-capacity days, so don't forget to have a parking plan before you arrive at the mountain!
One easy way to avoid crowded shuttles and parking lots is by taking advantage of the Village Ski Back Trail. The Ski Back Trail's central location near Canyon Lodge allows it to be an easy and fun way to get back to The Village. The Ski Back Trail may be closed if there is not enough snow for adequate coverage, and there are several flat sections where you may have to walk if you don't have enough speed. Still, any time spent skiing or snowboarding is always more fun than a crowded parking lot or shuttle!
Read more about Covid-19 and how it has affected Mammoth mountain here.