Where to go for a Date Night in Mammoth Lakes
There isn't a better place to celebrate a special occasion than Mammoth Lakes thanks to the epic natural scenery, unmatched mountain culture, and number of activities to do with the people who matter most to you.
Whether you're in Mammoth Lakes with a partner of many years or are heading out on your first day, celebrate the person you're with by visiting one of the incredible restaurants we've listed below for your date night! If you and your partner's idea of a perfect date is a day of backpacking followed by a night camping under the stars, then stop by the ASO Mammoth shop for all your outdoor sport needs!
The Restaurant at Convict Lake
We're starting off our list with one of the best fine dining restaurants in all the Eastern Sierra.
Convict Lake is already a beautiful place to spend time with your significant other thanks to the stunning lake, soaring mountains that surround it, and the walking trail that runs around it all. Somehow though, the food at The Restaurant at Convict Lake soars above it all thanks to its elevated flair and excellent wine list and cocktails to match. If you're looking for a fine dining experience and don't mind driving just outside of Mammoth Lakes, then The Restaurant at Convict Lake is the perfect option for a date night!
Whether it's your first date or your hundredth, trying something new is a great way to spend time with someone you care about. It's even better when that something new is also delicious, and that's exactly what the food at Skadi is.
Skadi's fine dining menu is influenced by Ian Algerøen's Norwegian heritage and time spent in the Swiss Alps. The result is a delicious alpine menu that rotates seasonally while always remaining memorable. Plus, Skadi's small size and intimate décor is the perfect setting for a special night out with your partner. 
If you're in Mammoth Lakes, then you're in the mountains. If you want to dive into the rustic mountain atmosphere while still enjoying fine dining for your date night, then check out The Lakefront Restaurant at Tamarack Lodge.
Tamarack Lodge is a historic building on the shore of Twin Lakes that provides a comfortable place to stay while still embracing the beauty of the Eastern Sierra. Accordingly, The Lakefront Restaurant at Tamarack Lodge offers intimate dinners with delicious food only steps away from Mammoth's beautiful lakes.
If you want a special place to celebrate your nature-loving partner, then choose The Lakefront Restaurant. It may be the only restaurant where you'll want to wait to be seated so that you can walk around the beautiful Lakes Basin!
Mammoth Lakes may not be in a tropical climate, but that doesn't mean you can't eat like you're in one.
Dos Alas offers the best Cuban, Spanish, and Puerto Rican food in Mammoth Lakes from an intimate location surrounded by stunning views of the mountains. If you've had a long day outside in the snow, then treat your partner to a relaxed and delicious meal from warmer climates by visiting Dos Alas!
Have a Picnic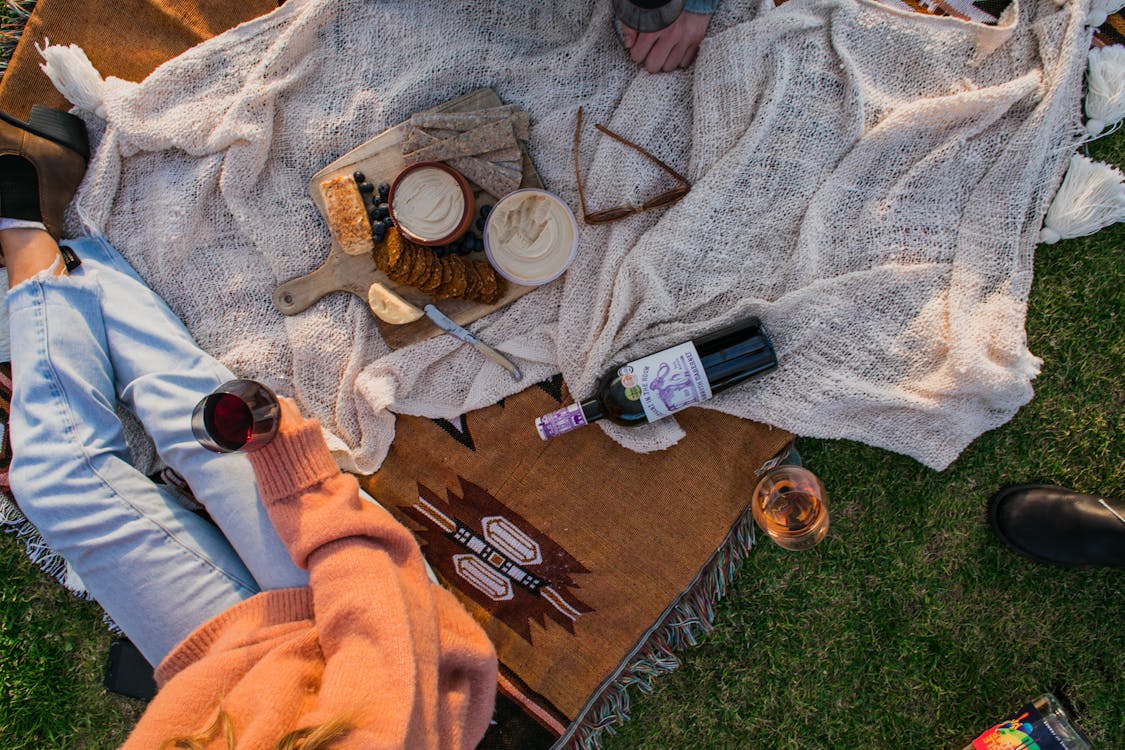 When you're with the right person, it doesn't matter what you're eating for your date night. Of course, it also helps to be eating outside with views of Mammoth Lakes' beautiful mountains!
Plan a special night for two and have a picnic outside if the weather is warm in Mammoth Lakes! Whether you pick up food from one of the restaurants we've listed above or make it yourself, you're bound to find a beautiful view to enjoy it from!