One of our favorite things about living and working in the Mammoth Lakes area is the endless amounts of beautiful and challenging terrain to explore. However, when winter comes some of the ASO Mammoth team's favorite hiking trails can be unreachable due to snow and ice, which is why we love using microspikes.
Microspikes allow hikers and runners to safely cross flat terrain covered in snow or ice, but using them correctly isn't as simple as it sounds. To help other hikers and runners reach more terrain in the winter, we've put together a short guide to what you need to know about using them. Check it out below and come into the ASO Mammoth shop to look for your first set!
The Difference Between Microspikes and Crampons
Microspikes and Crampons are often bundled together since they serve the same basic purpose, but they do so in very different conditions and if you don't know the difference between the two then you could be injured on the mountain.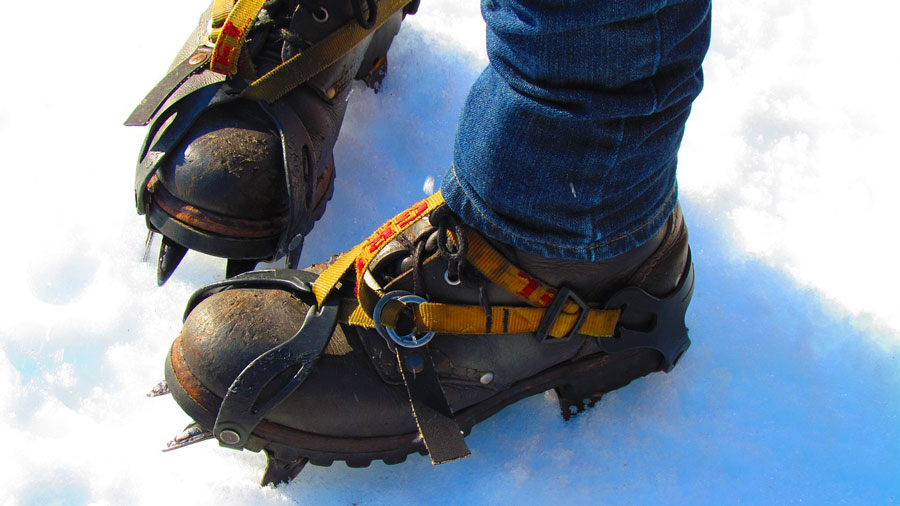 If you're looking at a set of microspikes and crampons, you'll immediately notice how much bigger the spikes on the crampons. As the name suggests, microspikes have small spikes that are meant to give traction and not dig into ice. Although you may think that you want as much traction as possible, and therefore want the bigger spikes on crampons, walking in crampons can be exhausting due to how much force is needed to get the spikes planted in the surface. Plus, crampons are dangerous to use on the wrong type of surface.
For this reason, microspikes are best used on flat surfaces with packed snow. If a flat surface turns into a steep and icy slope, then crampons are what you'll need to safely ascend or descend.
When to Wear Microspikes
So, what conditions necessitate microspikes? Anytime you're walking across compacted snow on flat terrain, you'll want the extra tension microspikes provide. For example, if you're a trail runner then microspikes can be added to your shoes without adding a ton of extra weight while still giving you the traction you need to run on snow-covered trails.
If the Terrain turns steep and icy, then you'll either need to turn around or put on crampons. Lastly, if you run into loose, powdery snow where your feet are constantly sinking and causing you to lose your balance, then you'll want snowshoes instead of microspikes or crampons.
Check the sizes to Make Sure They Fit Your Boots Before You Buy
Microspikes are generally adaptable enough to fit any running shoe or boot, but you need to check the manufacture's size guide before you buy them to be sure.
For example, most microspikes will have an adjustable design that allows them to fit any foot, but they can vary drastically based on whether they're designed for walking on snow covered sidewalks or hiking in the wilderness. Check the manufacture's recommendations on size and use before you make your purchase.
Learn to Use Crampons Before Transitioning to Them
If you run into a situation where microspikes aren't enough and have access to crampons, don't think that you can use them the same way. There are specific techniques for walking in crampons, and if you don't know them then you could exhaust yourself or slip on the ice and be injured. Plus, all the traction in the world won't help you if you don't know how to properly put on crampons, so don't think you can use them as easily as you can use microspikes.