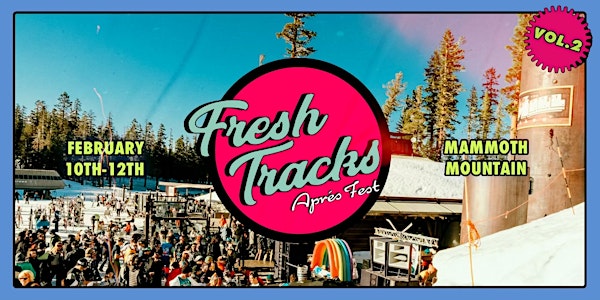 Mammoth Lakes, California is home to one of the most fun and exciting Apres Ski & Snowboarding festivals in the country! The Fresh Tracks Apres Ski & Snowboarding Festival takes place annually on February 10, 2023 and is a must-attend event for snow & music enthusiasts. With four events over three days, Fresh Tracks Aprés Ski Festival is a full town takeover!
After RECORD-BREAKING pow pow in Mammoth, we're sure you're ready to wake up Woolly and let the Aprés Gods loose on Mammoth Mountain!  The MammothBound, ASOMammoth, Almost Nakey, Respect The Funk, & Genius Loci crews are high tailing it to Mammoth Mountain to deliver the most anticipated event of the year.
THE SCHEDULE:
Friday Night 9:30pm-1AM:
The adventure begins at the Bowling Alley! Fresh Tracks transforms the most fun place in Mammoth into a rocket fueled disco featuring world class sound systems and some of your favorite SoCal DJ's.
Saturday 11AM – 5PM:
Ski into The Mill on Mammoth and get ready to be blown away by our massive Funktion 1 soundsystem and ripping DJs for FREEEEE!!! Yep that's right. Come enjoy the renovated bar at The Mill!
Saturday Night 9:30Pm – 1AM: 
We get bigger and badder at the Bowling Alley. This is the FULL SEND party.
Sunday 11AM – 5Pm:
Only for the true Aprés Gods! Ski-in and ski-out of The Mill while the whole Fresh Tracks crew rips up the dance floor.
What to Wear:
Come dressed to impress in your best vintage ski gear from the 60's – 70's – 80's & 90's.
The weather forecast calls for a 100% chance of powder with snow bunnies and ski pros ripping the dancefloor! You don't want to miss this.
11:00AM – 5:00PM Saturday & Sunday Apres Ski at The Mill on Mammoth Mountain is FREEEEEEEEE. Please enjoy The Mill food and drinks! Huge thank you to The Mill!
9:30PM – 1:00AM Friday & Saturday Night at Mammoth Rock'N'Bowl are ticketed.
BOTH NIGHTS WILL SELL OUT – GET YOUR TICKETS NOW!
🎟️SNAG EALRY BIRD TIX – PRICES WILL INCREASE
🏔️IKON HOLDERS- NO BLACKOUT DATES
SNOW OR SHINE – WE ARE READY TO APRES!
In addition to the amazing music, the Fresh Tracks festival also includes a variety of other activities and events. Visitors can check out all the incredible runs Mammoth Mountain has to offer, from Mammoth Unbound terrain park to the Minarets. They can try delicious food and drinks from a variety of vendors at the Mill and in the Village. There are also a variety of other fun activities in Mammoth Lakes, such as snowshoeing, tubing, sledding, hiking, and snowmobiling!
The Fresh Tracks Festival is a must-attend event for anyone who loves skiing, snowboarding, dressing up, dancing, amazing live music, and the outdoors. The beautiful setting of Mammoth Lakes, combined with the exciting winter activities, live music, bars, and restaurants make it the perfect destination for a winter weekend getaway. Mark your calendar and book your tickets as soon as they are available, as this festival is sure to sell out quickly!
Get your tickets to the Fresh Tracks Festival coming up Feb 10, 2023
Overall, the Fresh Tracks Festival is a fantastic event for people of all ages and skill levels. Whether you're a seasoned pro or just starting out, there's something for everyone to enjoy. So pack your bags, grab your skis, snowboards, and costumes, and head to Mammoth Lakes for a weekend of fun and excitement at one of the best Apres festivals in the country!